When it comes to end of tenancy cleaning there is no one better than our team. Armed with state of the art equipment and specialist products, we can clean any property from top to bottom.
Outstanding services
So if you're a property owner, tenant or estate agent, you could benefit from our outstanding services!
Book now

Super-Quick services
With super-quick end of tenancy cleaners, we can even help you out with an incredible same-day service! To get your free quote, call Handy Cleaners right now!
Book now

Incredible prices
We can beat any like for like quote in the London with our incredible prices and one-off deals! So don't miss out, call us on 020 3743 0505 before it's too late!
Book now

Our Testimonials
We booked Handy Cleaners at the very last minute, so were surprised that they had a slot for us! This was an end of tenancy clean up, and the landlord only wanted cleaners who knew their stuff handling it. Best cleaners in London!
Our landlord was very happy with the end of tenancy cleaning provided by Handy Cleaners.
The cleaning services at Handy Cleaners were dependable, punctual, and I would hire them again!
I began using Handy Cleaners before I moved into my new apartment and asked for end of tenancy cleaning. They did a terrific job. They completely transformed the place; it's amazing what a good deep clean will do.
Constance Robbie
25

Jul 2019
Their cleaners arrived on time and immediately began the housecleaning. I'll say one thing for Handy Cleaners, they are affordable and you get more than you pay for!
Barbara Connelly
24

Jul 2019
The staff at Handy Cleaners is committed to ensuring you get your money's worth. Their cleaning techs arrived in my property to clean end of tenancy, and I was very impressed. Their visit was a success!
Handy Cleaners sent a professional cleaning staff to do end of tenancy cleaning at our property in Central London. Very satisfied with both the quality of work completed and prices quoted and paid.
We booked Handy Cleaners' cleaners to come over for an end of tenancy cleaning, and give the floors a good, once over. They treated the vinyl flooring much differently than the hardwood flooring, which impressed me. Not only that, but the rates were affordable too!
Fabulous cleaners! Handy Cleaners did the best end of tenancy cleaning ever! When they were done, it didn't even look like someone has lived there!
Thank you, Handy Cleaners, for sending us such a friendly and easy-going team for the end of tenancy cleaners to our property in North West London! Everything was done to perfection, thanks again!
A Professional & Reliable Team
When you hire our end of lease cleaning packages you are guaranteed to receive a professional and reliable service that is carried out by a team of experts. With us, you'll have no need to worry about whether it will have been worth the expense as we provide exceptional results.

So if you're worried about getting your bond back or if you want to impress your new tenants, investing in one of our move out cleaning services is bound to impress.

Our pre-tenancy cleaning deals also offer excellent value for money and can help you to get a property ready super-quick! Our team can eradicate stains, dirt and dust ASAP, leaving you with a clean property and a quick turnaround.
End of Tenancy Cleaning from £95
See all prices

What Makes Us Stand Out From The Rest
There are many firms which offer end of tenancy cleaning services in London, however, we are the only firm that offers all of the below and much, much more:
Quick response times and flexible working hours.

Fully-trained end of tenancy cleaners who have access to industry-leading equipment.

Competitive business packages for property owners and estate agents.

Convenient and affordable services for tenants.

An extensive team of workers who are experienced at working on large and small projects.

Excellent results that are guaranteed to impress your landlord or tenants.
Unlike some other firms we are so confident that you'll be impressed with our services that we even offer an incredible money back guarantee. We believe that you will be 100% satisfied with any of our services. Call us on 020 3743 0505 and we'll give you a free quote!
Book now

Affordable Services For Tenants & Landlords!
Areas we cover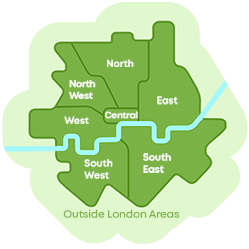 020 3743 0505
Call us now!
Book now

Our move out cleaning services are cheap at half the price and offer excellent value for money for tenants and landlords alike.

So if you want to clean up a property without any high costs, make sure you call Handy Cleaners.

Our pre-tenancy cleaning packages can also help you to maximise your property, impressing potential tenants and getting a great return on your investment.
How To Book?
We have a 100% customer satisfaction rate and are guaranteed to leave you with a smile on your face!
Book now

With no long waiting times or lengthy forms to fill in, you can have your end of tenancy cleaning service booked in ASAP! So if you don't want to miss out on one of our spectacular deals, dial 020 3743 0505 now!
Book now